233

Reading: Types of Retailers
Beyond the distinctions in the products they provide, there are structural differences among retailers that influence their strategies and results. One of the reasons the retail industry is so large and powerful is its diversity. For example, stores vary in size, in the kinds of services that are provided, in the assortment of merchandise they carry, and in their ownership and management structures.
As of December 2019, there were 63,000 grocery stores in the U.S. Micro grocery stores (which employ between one and four employees) and massive grocery stores (which employ more than 500 people) were the two largest groups, with about 20,000 stores in each category. [1]
A few stores are extremely large, having sales of $500,000 or more on a single day. In fact, on special sale days, some stores exceed $1 million in sales.
This diversity in size and earnings is reflected in the range of different ownership and management structures, discussed below.
Department Stores
Department stores are characterized by their very wide product mixes. That is, they carry many different types of merchandise, which may include hardware, clothing, and appliances. Each type of merchandise is typically displayed in a different section or department within the store. The depth of the product mix depends on the store, but department stores' primary distinction is the ability to provide a wide range of products within a single store. For example, people shopping at Hudson's Bay can buy clothing for a woman, a man, and children, as well as housewares, such as dishes and luggage.
Chain Stores
The 1920s saw the evolution of the chain store movement. Because chains were so large, they were able to buy a wide variety of merchandise at large quantity discounts. The discounts substantially lowered their cost compared to the costs of single-unit retailers. As a result, they could set retail prices that were lower than those of their small competitors and thereby increase their share of the market. Furthermore, chains were able to attract many customers because of their convenient locations, made possible by their financial resources and expertise in selecting locations.
Supermarkets
Supermarkets evolved in the 1920s and 1930s. For example, Piggly Wiggly Food Stores, founded by Clarence Saunders around 1920, introduced self-service and customer checkout counters. Supermarkets are large, self-service stores with central checkout facilities. They carry an extensive line of food items and often nonfood products.  Supermarkets' entire approach to the distribution of food and household cleaning and maintenance products is to offer large assortments of these goods at each store at a minimal price.
Discount Retailers
Discount retailers, like Dollorama and Dollar Tree, are characterized by a focus on price as their main sales appeal. Merchandise assortments are generally broad and include both hard and soft goods, but assortments are typically limited to the most popular items, colours, and sizes. Traditional stores are usually large, self-service operations with long hours, free parking, and relatively simple fixtures. Online retailers such as Overstock.com have aggregated products and offered them at deep discounts. Generally, customers sacrifice having a reliable assortment of products to receive deep discounts on the available products.
Warehouse Retailers
Warehouse retailers provide a bare-bones shopping experience at very low prices. Costco is the dominant warehouse retailer, with $138.4 billion in sales in 2018.[2] Warehouse retailers streamline all operational aspects of their business and pass on the efficiency savings to customers. Costco generally uses a cost-plus pricing structure and provides goods in wholesale quantities.
Franchises
The franchise approach brings together national chains and local ownership. An owner purchases a franchise which gives her the right to use the firm's business model and brand for a set period of time. Often, the franchise agreement includes well-defined guidance for the owner, training, and ongoing support. The owner, or franchisee, builds and manages the local business. Entrepreneur magazine posts a list each year of the 500 top franchises according to an evaluation of financial strength and stability, growth rate, and size. The 2019 Top 500 Franchises list by Entrepreneur magazine is led by McDonald's, Dunkin' Donuts, Sonic Drive-In, Taco Bell, and the UPS Store.
Malls and Shopping Centers
Malls and shopping centers are successful because they provide customers with a wide assortment of products across many stores. If you want to buy a suit or a dress, a mall provides many alternatives in one location. Malls are larger centers that typically have one or more department stores as major tenants. Strip malls are a common string of stores along major traffic routes, while isolated locations are freestanding sites not necessarily in heavy traffic areas. Stores in isolated locations must use promotion or some other aspect of their marketing mix to attract shoppers.
Online Retailing
Online retailing is unquestionably a dominant force in the retail industry, but today it accounts for only a small percentage of total retail sales. Companies like Amazon and Geico complete all or most of their sales online. Many other online sales result from online sales from traditional retailers, such as purchases made at thebay.com. Online marketing plays a significant role in preparing the buyers who shop in stores. In a similar integrated approach, catalogs that are mailed to customers' homes drive online orders. In a survey on its website, Land's End found that 75 percent of customers who were making purchases had reviewed the catalog first.[3]
eMarketer Graph[4]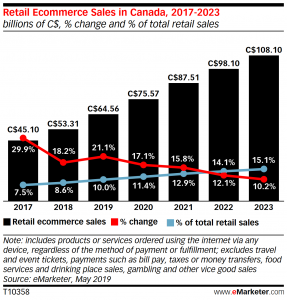 Catalog Retailing
Catalogs have long been used as a marketing device to drive phone and in-store sales. As online retailing began to grow, it had a significant impact on catalog sales. Many retailers who depended on catalog sales—LL Bean, The Hudson's Bay, and J.C. Penney, to name a few—suffered as online retailers and online sales from traditional retailers pulled convenience shoppers away from catalog sales. Catalog mailings peaked in 2009 and saw a significant decrease through 2012. In 2013, there was a small increase in catalog mailings. Industry experts note that catalogs are changing, as is their role in the retail marketing process. Despite significant declines, U.S. households still receive 11.9 billion catalogs each year.[5]
Nonstore Retailing
Beyond those mentioned in the categories above, there's a wide range of traditional and innovative retailing approaches. Vending machines and point-of-sale kiosks have long been popular retail devices. Today they are becoming more targeted, such as companies selling easily forgotten items—such as small electronic devices and makeup items—to travelers in airports.
Each of these retailing approaches can be customized to meet the needs of the target buyer or combined to span a range of needs.
---