293

15.5 Putting It Together: Marketing Plan
Having taken an entire course and developed your own marketing plan, you're well on your way to being an expert student of marketing. Who knows? This could be the start of an exciting career path in business or nonprofit organizations or maybe in the marketing industry itself.
While the experience of developing and presenting a marketing plan for a class may seem far removed from the "real thing," rest assured that the key elements, structure, and basic layout of your plan aren't contrived at all. We've included an example of a real marketing plan for Lululemon so you can see what one looks like. The information is presented in the same format as the template you've already seen, so it's a good resource for you to examine as you work to improve your own plan. It may just remind you of how far you've come, how much you've learned, and what's possible now that the world of marketing is so much less mysterious to you.
Lululemon Marketing Strategy and Plan
Introduction and Executive Summary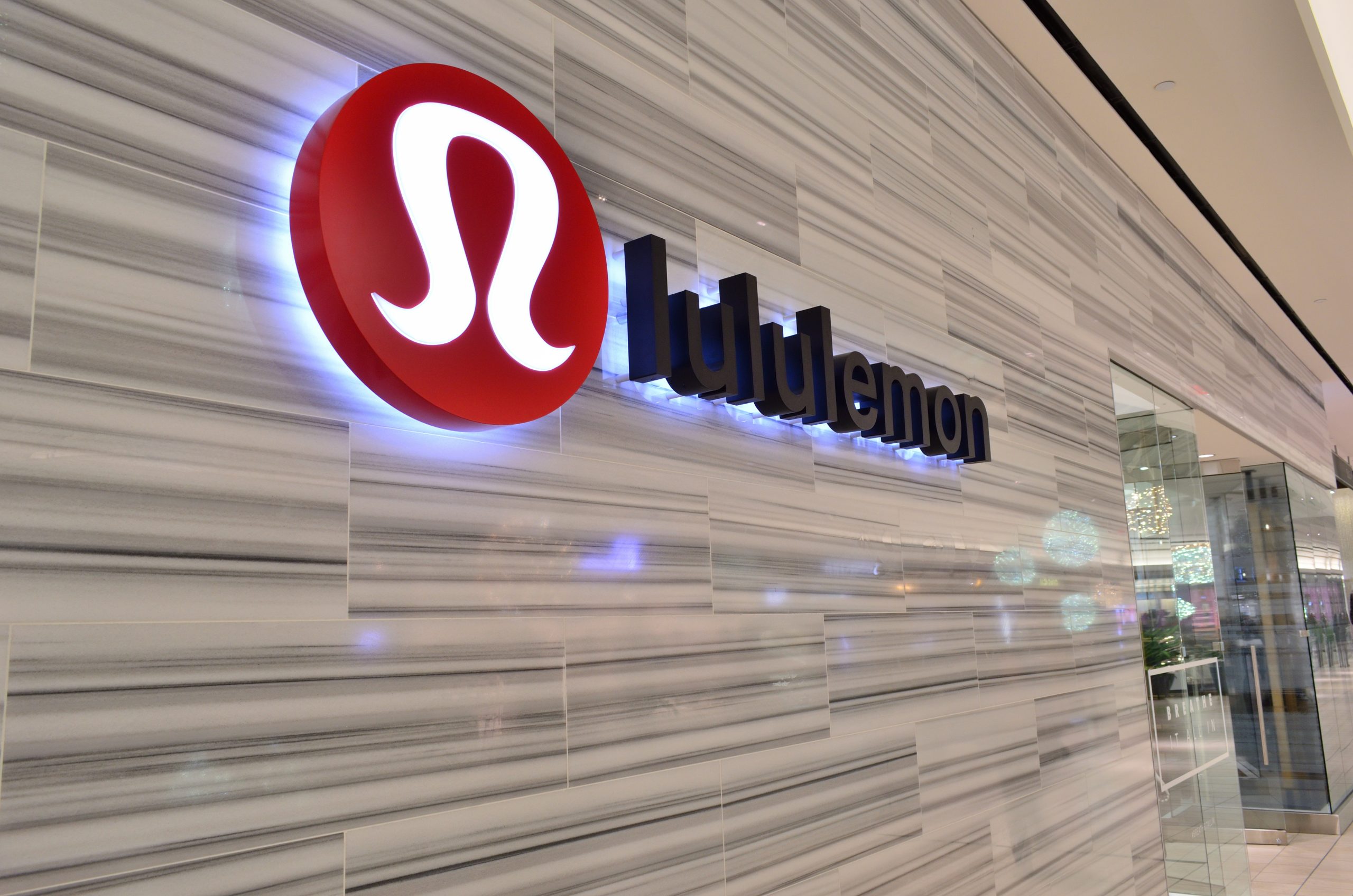 This report proposes a marketing strategy and plan for Lululemon Athletica, focusing on their Wunder Under product line. In summary, this report concludes that Lululemon should undertake several initiatives to strengthen its position in the market. This report includes a situation analysis, a look at Lululemon's strategy, tactics, implementation, and financials.
Lululemon Overview, Vision, Mission, and Plan Scope
Lululemon sells yoga and exercise apparel and they have found success in marketing a lifestyle rather than a product. Lululemon's mission statement is "to elevate the world from mediocrity to greatness." The mission statement comprises of these components: improving lives, improving health, and exceeding expectations. Lululemon is passionate when it comes to initiating long-lasting changes in everyone that uses their products. Lululemon's vision statement is "to be the experimental brand that ignites a community of people living the sweat life through sweat, grow and connect." The statement consists of the following components: exceptional brand, ignite communities through sweat, and create connections. Lululemon prioritizes quality over quantity to provide value to their customers.[1]
The scope of this plan includes a look at Wunder Under, a legging product line. Wunder Unders are leggings that are meant to make you feel empowered while having a snug waistline, lots of support and they offer them in many lengths. [2]. They sell their products in 440 company-owned stores in 15 countries. They also sell online and via mobile apps where they offer many products and services [3]. Most of their stores operate in North America. Lululemon is focused on international expansion, especially in the Asia-Pacific region. They are hoping to introduce Wunder Unders into the Chinese Market.
Lululemon Goals, Strategies and Budget
Lululemon has many goals they hope to achieve. These include:
Identify retail locations to open new stores and attract new customers.
Provide customers with new products.
Sustain their brand image.
Achieve growth and maintain cash flow.
Increase sales of current stores.
Operate efficiently in all departments.
Keep their dedicated and experienced staff. [4]
Lululemon's strategy allows them to become one of the major players in the athletic apparel. To achieve its goals, Lululemon uses three main strategies.
Innovation forever- they have a very active Research and Development department and are always looking to get new and improved products to their customers.
Interactive digital marketing- they portray their brand as essential for athletic teams, fitness facilities and yoga studios.
Expanding the market by launching new product lines in different regions – while Lululemon has been very successful in North America, they hope to expand their marketing to China[5].
Lululemon had a total revenue of $3.29 billion in 2018. Of that, 65% of it came from their own stores. Lululemon's sales have jumped with the rising popularity of yoga and their improved brand awareness. They have almost doubled from $1.8 billion in 2014 to $3.3 billion in 2018 and net income has had a similar outcome[6].
Strategic Analysis
The following selection describes the market, the competition, a SWOT analysis of Lululemon, Lululemon's' customers, as well as its products and services.
Lululemon Market Analysis
Lululemon's leggings operate in the technical athletic wear market made up of women ages 20-40 across the world. Currently, 70% of Lululemon's sales revenue comes from the USA, 15% comes from Canada and Australia, and the rest are dispersed between European and Asia-Pacific countries [7]. Out of its 440 stores worldwide, 235 locations are in the USA alone, 64 in Canada and only 22 stores operate in China[8]. The rest are in Europe and other Asian-Pacific counties. We estimate the total addressable market to be worth $197.35 billion in revenue worldwide. We further estimate the market penetration to be 59.8%. We further estimate that Lululemon's market share is 2.7%.
We further defined the market for the following categories
Qualified customers not buying anything. China is an untapped market for Lululemon, and it currently makes up less than a percent of their total revenue. This number reflects the potential revenue in this market based on the average amount spent / year by Lululemon consumers ($200) multiplied by 25% of the Chinese population (348 250 000) which is $69.65 billion in sales revenue.
Lululemon's current customer base $3.2 billion in sale revenue.
Customers buying from Lululemon and all competitors $118 billion in sales revenue.
Customers buying exclusively from direct competitors Adidas, NIKE and Under Armour $6.5 billion in sales revenue.
Lululemon Competitive Analysis
Lululemon's healthy lifestyle-inspired athletic apparel and accessories are marketed under the lululemon brand. They offer a comprehensive line of apparel and accessories for women and men. Their apparel assortment includes items such as pants, shorts, tops, and leggings designed for a healthy lifestyle including activities such as yoga, running, training, and other sweaty pursuits. They also offer fitness-related accessories. Through their vertical retail strategy and direct connection with guests, we can collect feedback and incorporate unique performance and fashion needs into the design process. This way, they can solve problems for their guests. Advance product lines differentiate them from the competition. Lululemon benefits from the growing number of people that participate in yoga, they believe the percentage of their products sold for other activities will continue to increase as they broaden product range [9]
Lululemon SWOT analysis
We have undertaken a SWOT analysis for Lululemon in the context of our scope and discovered the following:
Strengths
Product Quality
Lululemon focuses on producing the highest quality of all the products in the market. They have designed their products to last for years. Lululemon has patented 45 materials and has trademarked their products and fabric names to protect them from being copied from competitors [10]
Price Point

Lululemon focuses on ensuring that they have made a superior quality product [11]. This means that Lululemon has higher pricing points than their competitors. Although in some countries this fact may seem like a weakness, when relating it to the Chinese market it is a strength. In China, people are willing to pay more for "luxury products" with "superior quality" so Lululemon's price point is a great fit.
Weaknesses
Brand Presence
In North America, Lululemon has a strong presence and relies a lot on customer loyalty, word of mouth, and their trained sales associates to sell their products. However, in China Lululemon doesn't have a strong brand presence, and cannot rely on it for marketing. Instead, Lululemon needs to adapt and become more focused on digital and mobile marketing to tailor itself towards Chinese consumers.
Lack of Customer Base
Lululemon has not expanded into China enough to engage with the customers the way they do in the US. This results in a lack of customer base and customer loyalty.
Opportunities
Global Expansion
Lululemon currently has many retail stores, only a few of them operate outside of North America though. This leaves Lululemon with a lot of room to expand and grow in markets like Europe, and Asia. Although Lululemon has an e-commerce site and an ability to sell their products to those countries already, Lululemon sees more revenue when there is a store in place. This means that expanding the number of retail stores in foreign markets could increase their opportunities for sales.
E-Commerce Expansion
Lululemon currently runs an e-commerce website where you can buy many of its products online, however, most of Lululemon's revenues come from its retail locations. Lululemon could invest in more services for their website to grow online sales in China and give their guests an omnichannel experience by creating content on platforms exclusive to China.
Growing Industry

Mintel, an international marketing agency has estimated that the value of the sportswear industry in China will reach up to 2200 billion before 2020. The quality of life in China is also advancing, and they are continuing to see a growth in health and fitness consumers. This makes it a very good time for Lululemon to continue expanding into the Chinese market. [12].
Threats
Competition

When it comes to Lululemon's Wunder Under leggings there is a lot of competition in the market. For example, Nike has a line of leggings called the "one tight" these leggings closely resemble that of Lululemon. Under Armour, Gymshark and Adidas are also some brands that have made similar leggings to Lululemon. Although their competitors leggings are high-priced, Lululemon has the highest price out of all of them[13].
Counterfeit Product

With Lululemon's high price-point and overall brand image, many people have started to try to create "dupe leggings" and sell them at much lower prices than Lululemon does. For example, brands like Queenieke, and Occffy, sell their leggings directly through Amazon for $29.99, and claim they are exactly like Lululemon's leggings [14].
Lululemon Target Customer Description
Lululemon's primary and largest customer group is made up of women. This is the typical ideal customer of North America is a 32-year-old professional single woman named Ocean, who makes $100,000 a year. Ocean is also engaged, has her condo, is travelling, fashionable, has an hour and a half to work out a day. The woman is so aspirational because If you're 20 years old or you're graduating from university, you can't wait to be that woman," Wilson said. "If you're 42 years old with a couple of children, you wish you had that time back [15].
Lululemon Typical Customer
Based on the cultural values in China, we have created a persona for the typical customer for the Wunder Unders.
Breeze is a professional in her twenties, and she is successful in her career. In her downtime, she focuses on her health and fitness. She has some extra money to spend and looks for quality products and a recognizable brand to sweat in during her favorite yoga practices.
Lululemon Customer Buying Process
The typical Chinese consumer behaves very differently in their buying process than the North American consumer. The typical consumer starts their product search online and takes their time to research to ensure products meet their needs (Digital Crew Insights and Analysis, 2019). These are the steps taken to make a purchase:
Product Search
Consumers search on popular Chinese platforms such as Tmall and Baidu. Tmall is a platform for local Chinese and international businesses to sell brand name goods to consumers in mainland China, Hong Kong, Macau and Taiwan. It is the world's second-largest e-commerce website and it has over 500 million monthly active users (Digital Marketing China, 2019). This website is a great platform for Lululemon to communicate the features and benefits of their product, showcase product video content, and list where the products can be found. Baidu is a search engine similar to google. It provides many of the same services as google such as mapping, AI and digital advertising. Chinese consumers will also visit the brands' official website for additional information. The typical consumer is highly influenced by online and social media content, with 90% of consumers saying they have purchased a product based on their search.[16] Currently, Lululemon has a small presence on the TMall channel and has room to grow.
Product Testing
Although the typical consumer does their research online, they will go to showrooms and brick and mortar stores to test the product. Lululemon has 38 stores operating in China for consumers to test product quality.
Product Comparison
Consumers are likely to shop in showrooms and online looking for the best deal, before committing to a product (Digital Crew Insights and Analysis, 2019). Lululemon is exclusive to its stores and has trademarked all of its material and patterns. This makes it difficult to find a comparable product quality for a lower price.
Product Purchase
Based on the consumers' experience in the product testing they will buy the product in-store or on their mobile phone.
Post Purchase Behaviour
If the consumer is fully content with a product, they will keep the product, and perhaps re-buy in a different style or pattern if they believe in the quality and brand after use. They will also be inclined to engage in online activities with the brand (Digital Crew Insights and Analysis, 2019). It is also important to note that there is a high rate of product return with online shopping. For those consumers who can't make it to a showroom, the behavior tends to be a bulk purchase to test products at home, and then return most of the product.[17].

Lululemon Product and Service Analysis

The following describes the products and service analysis of Lululemon's Wunder-Under leggings and services relative to the competition brands such as Nike One Tight. Lululemon is a brand that is proud to be environmentally friendly, its distribution centers have a recycling rate of 86% and their recycling and compost program has a 70% recycling rate. When buying Lululemon 'Wunder-Under" leggings from a store you'll be given them in 25% recycled reusable bag, which is 100% disposable. 'Wunder-Under Leggings' are made of 86% nylon and 14% Lycra. These leggings were created because Chip and Shannon Wilson noticed how poorly cotton-based clothing worked while working out and doing yoga. These leggings are machine washable and the only thing Lululemon advises consumers of is to wash them in cold water to keep the colour and shape longer. Consumers love them, the only thing they don't love is how thin the material is, but that is one of the reasons they are best for yoga and working out. Lululemon also offers free tailoring or replacement of items when the seams come loose or undone.[18].

Nike One Tights are designed for all-day wear, they are made of 83% polyester and 17% elastane with a mid-rise waistband to feel snug and secure. It's made from 50% recycled polyester fabric, which comes from plastic bottles that Nike diverted from landfills since 2010. Nike uses a Dri-fit technology to help keep the consumer dry and comfortable during their workout or everyday activities. They have a pocket located on the back of the waistband big enough to hold a phone and a small pocket in the front of the waistband to hold cash or keys.[19]

Nike is one of the most well-known and trusted brands around the world whereas Lululemon is still trying to create that fan base. Nike's consumers have a wide range of options to choose from, women's and men's loungewear, workout wear, shoes and so on whereas Lululemon is still only truly tailored to men's and women's workout and yoga gear.
Feature A
Where we perform the weakest relative to our competition is in the following product and services features and benefits:
1. Style
o Doesn't offer many colours
o Smaller logos
2. All-Purpose
o Doesn't offer leggings designed to all activities
Feature B
Modifications to these product features will form the basis of our marketing strategy. Lululemon could add the following product features to improve their product and stand stronger against the competition:
1. Style
o Add a wider range of colours, focusing on bright, eye-catching colours
o Add larger logos
2. All-Purpose
o Create leggings that can be everyday wear while also be tailored to all sports. With making these modifications Lululemon will grow to be a more successful company in the Chinese market.
Lululemon Product Service Analysis
Feature
Benefit
How Lululemon's
Product Performs
How Competitor's
Product Performs
Flexibility
Be able to work out in certain positions without any problems
Extremely well
Good
Durability
The longevity of the product before it needs to be replaced
Good — Lululemon offers a replacement service
Average
Style
Variety of colours, patterns and logos to fit personal styles
Average
Great – Large variety of logos, colours, and patterns offered
Price
Is it expensive/inexpensive
Higher end brand, higher cost
higher end brand but not as expensive as Lululemon
Fit
Feeling comfortable in leggings that fit all body types
Wonderful – sized to fit all body and focused on length
Good – multiple options
Lululemon Marketing Strategy
Based on our analysis to date, we propose that a great opportunity for Lululemon to increase sales in China is to target women in their 20s who are becoming more health-conscious and fit. These women would be part of the upper class with a higher household income, valuing quality and fashion. Lululemon can achieve this opportunity by adapting its product to the market, expanding its retail stores and growing its e-commerce platforms through engaging and information digital and mobile marketing strategies.
We have created the following value proposition based on our strategy:
Lululemon provides quality, performance leggings to successful, health-conscious women by offering personalized brand engagement and an omni channel retail experience to showcase the technical performance of the Wunder Under legging.
Tactical Analysis
This section proposes more specific recommendations for Wunder Under marketing programs, pricing approach, promotion and channel design. Lululemon Product and Service. The following are the changes and improvements in Lululemon products and services proposed to address gaps and opportunities relative to their competition. Currently Lululemon tends to be neutral in their colour choices and they are tailored towards yoga. Lululemon currently offers complimentary hemming on tops and pants in store, returns done in person or by mail and within 30 days of the purchase date, and a contact section on their website with a list of accounts to reach out to through WeChat and Weibo [20]
New Colours and Loud Prints
To make Lululemon leggings work in the Chinese market, they should make them less muted, using more bright, playful colours. Lululemon should go with colourful and all-purpose leggings. In China, eye- catching designs for young people's clothing is becoming very popular [21]. Lululemon should launch a new product line to include bright coloured leggings. Including highlighter type colours that are very eye-catching and that will stand out. There will be multiple colours to pick from including neon pink, yellow, blue and lime green.
Create a Line with a Bigger Logo
When researching culture in China, it is stated they big logos are a sign of status and luxury [22]. Lululemon should think about having a bigger logo on their leggings so that their brand becomes more known. Lululemon should create a new product line with bigger logos on leggings. They will create a legging that grabs attention and makes a strong first impression. Logos are the foundation of brand identity and it will make Lululemon more memorable while separating them from their competition.
All-purpose Leggings
In China, it seems to be becoming more popular to wear sportswear as an extension of casualwear in fashion.[23] Lululemon should have more leggings tailored to more sports while also focusing on the casual side of their leggings. Lululemon should design leggings to give customers more choice and enhance their workouts with leggings made for specific activities but also focusing on their comfort, casualness and stretch. They will make sure the waistband is high enough for coverage but not so high that it makes it restricts movement during sports or casual activities.
Create Chinese Lululemon App and Social Media
Lululemon should make a Chinese version of the Lululemon App. They should use their website and WeChat to encourage customers to visit their brand-owned apps, where they can get information on products, events and exclusive content including coaching tips and personalized services for Chinese members. Going more digital is a strategy that will help Lululemon do better in Chinese market. Focusing on digital platforms, Lululemon would be able to create different communities and provide various online services and offline experiences.
Women's Only Stores
Another idea is to open a women's only store. In this store, they could put on events that are designed to inspire active women. Lululemon would be able to build a more cohesive female community in China[24]. There are major gaps in Lululemon's offered products and services compared to their competition. Lululemon should expand their services online to grow their e-commerce sales in China. Features rated high by Chinese consumers are colourful, eye catchy designs and luxury brand items. Lululemon should work with their designers to incorporate those features in their clothing lines. Lululemon should give their customers a full experience by creating content on platforms exclusive to China[25].
Lululemon's Wunder Under leggings pricing strategy is a customer value-based strategy to help grow the companies brand image and luxury status in the market. Lululemon sells all functional garments at a high consistent price point because of their quality and exclusivity. Chinese consumers have a perception that high-quality products are found at a higher price point. To attract more Chinese consumers to their product, Lululemon has inflated its already high price. The high price is further justified by the larger amount of shipping cost and tax to run a business in China. Lululemon is paying a higher rate of tax in China to participate in e-commerce operations. They are also taxes on importing raw materials thought out the world to create their luxurious fabric. These factors justify the high price point in the Chinese market[26].
Lululemon uses a strict pricing strategy to create pricing awareness and maintain their luxury status using the following tactics. Regular price Wunder Unders, which consists of four core colours retail for ¥750, ¥850 and ¥980, which is slightly more inflated than the North American pricing. They are sold year-round at this price point [27]. Seasonal Wunder Under colours retail at regular price for 2 seasons and then enter a discounted rate of ¥ 450-¥ 650 or 20%-30% off. These discounts keep the market happy, knowing it is possible to get a deal, while the company still maintains high profit margins.
This pricing strategy is consistent across all Lululemon stores globally. Pricing is communicated consistently across online platforms and in retail stores. Customers are educated on the product quality first before the price is revealed [28].
Although Lululemon doesn't typically participate in large discount events, they have adapted to the Chinese culture by participating in International Singles day, a sale event that occurs every year, on November 11, on TMall. During the sale, Lululemon has incorporated lottery pricing and dollars off purchases over certain purchase value. This is a valuable sale to participate in because it is the largest spending day in China, and it's a good opportunity to engage new customers who may be skeptical of the regular price point. The discount rate will not drop any further than the regular discount rate of 20%-30% off regular price items to maintain luxury status while still being perceived as a deal[29].
The following is the proposed promotion plan for our target audience including the promotional tools to be used and the key messages to be delivered. We will be applying integrated marketing communication using a mix of digital and traditional channels to communicate with our customers. Our communication channel will focus on leveraging social media platforms to create an online brand community, customer engagement and product awareness online to ultimately drive traffic into our stores for customers to experience the product quality and the brand lifestyle.
Social Media & Direct Mobile Marketing
We will use social media channels such as WeChat and Weibo to create an online community for young yoga enthusiasts. We will also use these channels to advertise our events and generate brand excitement at a national and local level. WeChat and Weibo will also be used as a platform to connect with the brand with any customer service issues, which has already been established.
WeChat has 1 Billion active users as of 2019, and Weibo has 500 Million active users. 70%-85% of users on each of these platforms are in their twenties.[30]. To further our reach with user-generated video content to showcase our product on real people we will create yoga challenges on short video platforms DouYin. We will also be creating short video ads to release through these platforms once a week. The purpose of these ads will be to promote new products like the Wunder Unders, issue yoga challenges, and advertise our local and large-scale events. Direct mobile marketing has been described an engaging and enjoyable by the Gen Z and Gen Y and they are likely to subscribe to push notifications to get the latest information on their favorite brands[31].
Community Events
In the last month of each quarter we will host major gatherings in each major city to give our brand community a chance to get together and socialize, and of course a large group yoga practice. These events will be covered through social media channels as well. Lululemon has hosted large-scale events like this in the past such as The Forbidden City Yoga Session is 2017, and the "Unroll Your Mat!" in 2016 To launch the new line of yoga mats [32] These types of events have been successful in starting the lifestyle community, and by hosting them more frequently we hope to continue building those relationships with customers by engaging them in our lifestyle experience surrounded by their community.
Sales Promotions
In China, November 11 is International Singles Day Shopping Festival. On this day we will hold a nation- wide event in-store, on our website and on Tmall to make the sale accessible. This is the largest spending day in China, bringing in nearly $38 billion in one day in 2019. This event, mostly celebrated by young people of major cities like Beijing, Shanghai and Guangzhou, is celebrated with a lot of festivities[33]. This will be the largest discount sale of the year for Lululemon in China. Previously, the discount has been determined by lottery 25%-30% off, with every customer receiving a deal no matter what.
Lululemon Distribution Plan
Direct distribution will be through showroom stores, and we will also distribute our product indirectly through Tmall, an e-commerce selling and distribution agent. Tmall shortens the distribution chain and works as an agent. When distributing Wunder Under leggings, Lululemon would sell the product to Tmall and Tmall would then sell the product directly to the consumer, which eliminates intermediaries and makes the distribution process more efficient and effective.
Another way that Tmall helps the distribution chain is by using a B2D structure [34]. This means that Tmall assists in helping brands and companies connect with local Chinese distributors. This process advertises brands in the current market, and allows them to choose their distributor straight from the Tmall app. Tmall is a great asset for Lululemon to continue its relationship with because it allows for direct business-to-consumer selling, but they also allow for business to distributor selling. Another way we plan on expanding our distribution is by opening more stores. This will be done by adding around 20 new stores to China this year. We plan on opening most of the stores in areas with a higher population, with a younger demographic.
Implementation Plan
We have created to following graphic to showcase the changes we will be making this year.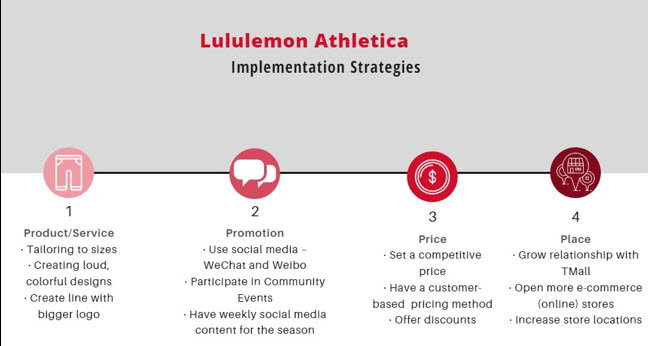 Product and Service Adaptations
Product and service success will be evaluated throughout the year as we continue to engage the market, look at trends in design and sell-through, and review product feedback to create the right product for the market. We will do this by creating two teams:
Product Adaptation Team
The team will consist of representatives from market analysis, finance, sales and design departments. They will meet at the end of each product season to evaluate the strengths and weaknesses of a seasonal product with a focus on logos, colours and sizing. Based on their evaluation they will come up with a plan to improve next year's product and tailor it to our target market.
Service Adaptations Team
The team will consist of representatives from market analysis, digital marketing, customer service, retail operations, e-commerce and distribution departments. They will evaluate the strengths and weaknesses in our services offered in-store and online. They will meet quarterly and submit evaluations and suggestions to improve servicing our market.
Pricing Implementation
Maintain Prices
Prices will be determined for each season 1 month before the product goes live online and in-store. Finance and marketing will determine these prices to maximize the pricing strategy.
Follow Discounted Pattern
Representatives from Finance, Marketing and Sales will work together monthly to determine which product should be discounted and when the discount will roll out on a seasonal basis. Sale prices will not exceed 20%-30% off regular price.
Special Projects Team: International Singles Day
Representatives from Marketing, Finance, Community Events, Digital Marketing, E-commerce, Distribution, Allocation and Retail Operations will dedicate Q1, Q2, planning the logistics for International singles day. They will be responsible for creating the discount structure, an allocation plan for retail stores as well as e-commerce platforms and distributors and an advertising campaign.
Promotional Implementation
The company needs to establish a social media presence on WeChat, Weibo and DouYin to create online community engagement and brand awareness to create a seamless omnichannel retail experience and two-way communication.
Grow the Social Media Team and Create Accounts:
Expand the social media team and divide them into National and Local levels for each major city. They will be responsible for content creation on all platforms, liaising with marketing, advertising, store manager, community events team to create consistent two-way communications. Platform Names will include: LululemonChina, LululemonShanghai, LuluLemonHangzhou, LululemonGuangzhou, LululemonChengdu, LululemonShenzhen and LululemonBeijing to target specific communities. Social Media Initiatives will be ongoing throughout the year on a consistent schedule established by the marketing and advertising departments.
Grow the Community Events Team
Expand the Community events team to tailor events to urban areas such as Shanghai, Hangzhou, Guangzhou, Chengdu, Shenzhen and Beijing. The community event team will be responsible for coordinating and planning all events in their designated district and liaising with local store managers, head office and the social media team. They will also need to become product experts to create their events which will feature specific products like the Wunder Under legging.
Invest in Mobile Marketing
The most effective way to reach our target market is by Mobile Marketing campaigns. Marketing, Advertising, Finance and the Social Media teams will be responsible for overseeing these initiatives. The marketing and finance departments will be responsible for defining the effectiveness of our mobile marketing initiatives, while advertising, social media will create the content and execute the planned schedule.
Distribution Implementation
Showroom Expansion
A New Store Opening team, which will operate under retail ops will consist of real estate, facilities, visual, and IT will be created for each major city Shanghai, Hangzhou, Guangzhou, Chengdu, Shenzhen and Beijing. We will be opening 20 new stores, 15 regular and 5 Women-only to grow interest in leggings. The goal is to open five stores per quarter.
E-Commerce Partnerships
B2B partnerships will be responsible for finding another e-commerce platform to get out product on by the end of the year. They will also continue working with their current partner, Tmall to find more distribution partners to get our products to our consumers quickly and efficiently.
Budget and Forecast
After looking at Lululemon's 2018 financials we realized they had spent $1.1 billion on their selling, general and administrative expenses, which was a 23% increase from their spending in the previous year [35]. We then estimated that their spending for 2019 would increase by 25%, and further determined that their spending in 2020 would be up 30% for a total budget of $1.79 billion for our implementation strategy. This budget was then allocated to, opening and operating new stores, digital marketing, product adaptation and community events. After estimating each department's spending, we determined that opening and operating new stores would receive 50% of the budget, giving the department $895 million. Digital marketing received a total budget of $447.5 million, product adaption received a total budget of $268.5 million. We then had 10% of the budget left over which we dedicated to community events, giving them a budget of $179 million.
Since China is the second-largest activewear market in the world it is a great opportunity for Lululemon to increase its revenues [36]. Based on our research we discovered that in 2019 Lululemon had doubled their amount of sales out of the North America region, making that share would 12% of its total sales. We believe that if Lululemon opens more retail stores in China and expands its e-commerce market that it could see an increase of 24% of total sales being from outside of the North American region.
Credits
Lululemon Marketing Strategy and Plan written by Taylor Rawding, Jantien Sneyd, Tiffani Hamilton, Saroja Venkatesha, Jodie Holman and Zoe Ciarrocco as an assignment.
---