What is a Catalog
The catalog is a public page that allows us to showcase the public works we are publishing. The University of Arkansas has a catalog page that can be found at https://uark.pressbooks.pub/catalog/
Readers can click on the cover of a book to be taken to its webbook homepage. If a book is public, readers can begin reading from the landing page. If only a few chapters of that book are public, they can browse the public sample chapters. And if the book is private, they can still read the book description, generating interest in your book.
The catalog allows users to browse as well as search on the title, author and tags (or keywords).
Creating a personal catalog
A personal catalog is automatically created for our authors. The personal catalog can be used to present your titles on your CV or market you books in other venues. It is good to edit your personal catalog. Some of the items edited in the personal catalog provide better access to your book in our University of Arkansas Pressbooks catalog.
Hiding or Showing Books on Your Catalog Page
You can add any of your own books to your catalog, whether they're private or public. All books in your account will be included in a table when you navigate to My Catalog.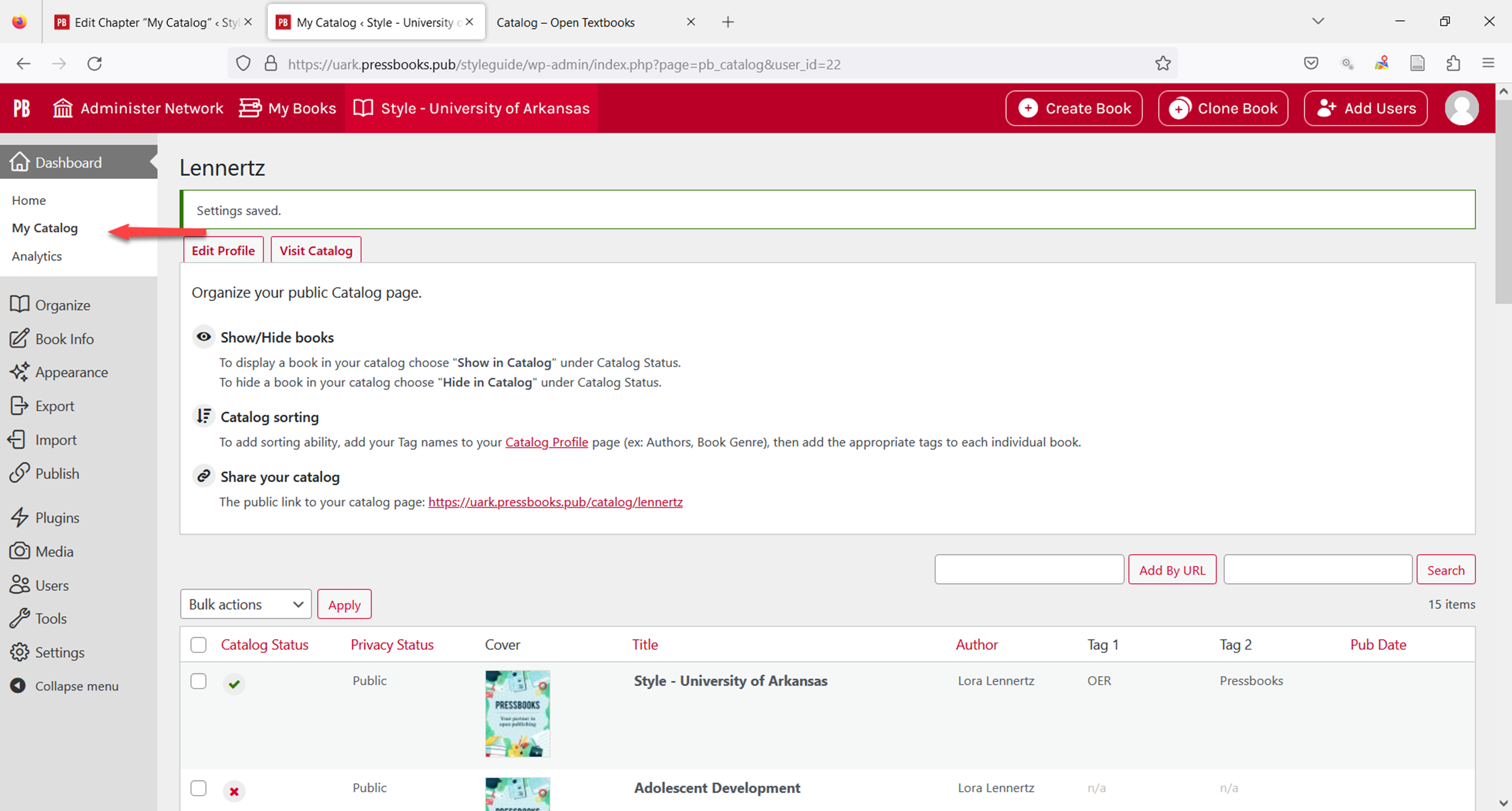 By default, no book will appear in your public catalog. To show a book in your catalog:
Hover over the book in the My Catalog table
Click the "Show in Catalog" link that appears
All books that are currently in your Catalog will show a checkmark in the Catalog Status column. Books that are not in your catalog will show an X.
Sorting Your Catalog
Use the sortable columns in the Catalog table to help you keep track of the books in your catalog. You can sort the following columns of the table by selecting the column header:
Catalog Status
Privacy Status
Title
Author
Pub date
Tagging Your Books
You can tag your books with subject terms to improve your book's Search Engine Optimization and make it easier for users to find. To add or edit tags:
Hover over a book
Click the Edit Tags link that appears in the Tag 1 or Tag 2 column
Enter the tags you'd like
Click Save Changes
Customizing Your Catalog Profile
You can make a few choices about how your Catalog looks. To access the profile edit settings, click Edit Profile next to your username at the top of the My Catalog page. The My Catalog Profile page allows you to include an "About" section, as well as a link to your author website, tags that may be relevant to your work, and a logo for your organization or personal work. When you've entered the details you'd like to include, click Save Changes.