Navigating the Left Sidebar
Pressbooks is a book creation tool built on WordPress. Whether or not you are familiar with the WordPress interface, Pressbooks should be relatively quick to figure out. But we are always here to help you out.
Left Sidebar Menu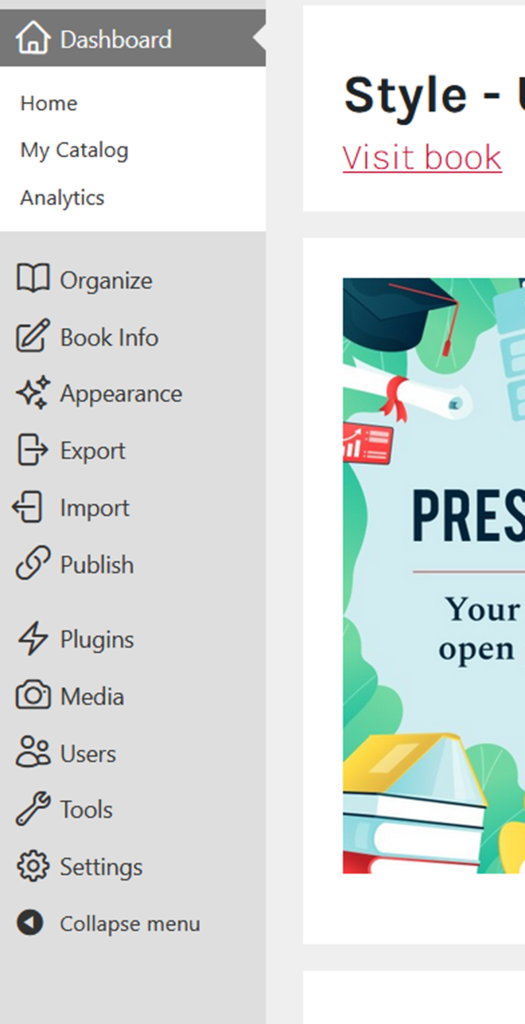 Dashboard
This is the homepage of your book and lists the content in full. Clicking on any of your chapters on this page will take you to the editing screen.
The is also where you can check how much storage your book is using. Scroll to the bottom of the page and you'll see both your book storage limit, and how much you are currently using. The University of Arkansas contract with Pressbooks does not include a storage limit.
Organize
From the Organize, you have access to all of your parts and chapters. You can also set your global privacy at the top of the page, select which chapters to show in your web output, and select which chapters to show in your exports.
Book Info
This section is where you set the details of your book, including title, author and language and other metadata. See more here.
Appearance
Theme
Here, you can select your book from over 20 options, all of which display a sample of how they look when applied in the PDF format (there can be minor differences in ebook and web).
To apply a theme, simply hover your mouse over it and click on "Activate".
Theme Options
This section allows you to customize your theme options. Global options apply to your book in all outputs. These include:
Enable or disable chapter numbers
Enable chapter taxonomy (advanced option)
Enable a two-level table of contents (displays headings styled with heading 1 applied in TOC)
Display copyright license (see our chapter on copyright for more)
Global typography support (see our chapter on multilingual for more)
PDF options allow you to control your PDF output. Options include:
Page size
Paragraph separation
Remove blank pages
Display footnotes or chapter endnotes
Widow and orphan settings (what are those?)
And more…
And finally, the web options allow you to add social media links to your chapters, and the ebook options tab let's you choose your paragraph separation and compress images for export.
Custom Styles
You can customize the design of your book's theme by editing the for your book in Custom Styles. Changes can be made to Your Styles, while the original CSS remains above so that changes are trackable and can be revised at any time.
Export
Go to this section to export your book. You can select from a range of formats, including the standard PDF, EPUB, and MOBI, plus a few more exciting options:
EPUB (

widely used file format for ebooks all over the world and is free from restrictions of (DRM)

PDF (for digital distribution and for printing)
XHTML (good for troubleshooting PDF issues)
Pressbooks XML (very useful for copying books)
Common cartridge with Web Links

( a standard way to represent digital course materials for use in online learning systems)
Once you've selected your format(s), hit "Export Your Book", and click on the file icon that appears to download. Pressbooks saves your last 5 batches of downloads, and you can delete files individually, or en masse by hitting "Delete All Exports".
Import
You can use this to import your content from a variety of file formats. First, choose your format from the following:
Epub
Microsoft Word
Open Office
Pressbooks / WordPress XML
Pressbooks Webbook or web page
Once you've selected your format, choose our file and hit "Upload File". This will take you to a second screen where you can select which sections/chapters/parts to import, and whether to import them as front/back matter, chapters or parts. With a Pressbooks XML file, you may also choose to import the existing "Book Info" metadata.
Publish
Publish is for use in linking your book to book purchasing options, it is not utilized at the University of Arkansas.
Plugins
Our site provides a number of plugin tools which may be useful for interactivity. Here you can activate the use of H5P, QuickLateX, and other tools.
Media
This is your media library, where you can upload images as a batch, and manage your images. You can also upload images directly when you are editing your chapters.
Users
Here, you can view and edit who has access to your book, and what permissions they have.
Tools
Most of the tools that are available are designed for use by an administrator. However, Search and Replace can assist you in your editing process.
Settings
Here you can control a few more settings that apply to you book.
Privacy – set your book to 'Private' or 'Public' globally, and choose who can see chapters set to 'Private'
Export – choose to have your export error logs sent to you or not
Google Analytics – add a Google Analytics ID to connect it to your Pressbooks books
PB LaTeX – check the LaTeX plugin is working properly, and set a couple of display options
Disable Comments – choose which parts of your book will have comments available (default is all comments are disabled)
a way of displaying various types of visual data in one place
In Pressbooks, the theme of your book includes styling rules for all of the elements of your book, including chapter title designs, fonts for heading and body text, the appearance of textboxes, block quotes, lists, tables, and export-specific elements like title page layout, copyright page layout and running content.
a style sheet language used for describing the presentation of a document written in a markup language such as HTML or XML
the use of technology to control and manage access to copyrighted material