allows book stores and libraries to categorize a book and make it easier for readers to find. It answers questions such as: What is the title? Who is the author? When was it published? And what is the book about?
Some pieces of metadata are required and will be filled in by default using the information you entered when your account and your new book were registered. This information is used for the following purposes:
To automatically generate certain pages in your book, including the cover, title page, and copyright notice
To build a book landing page on the web
Pressbooks makes it simple to fill out your book's metadata. Having complete metadata not only helps readers find your book, it tells them what your book is about. Without it, your book may be harder to find in search results and its entry in Pressbooks Directory may be bare and incomplete.
Improving Directory Metadata
Here's a sample book card from the Directory for a book that lacks relevant metadata (book info):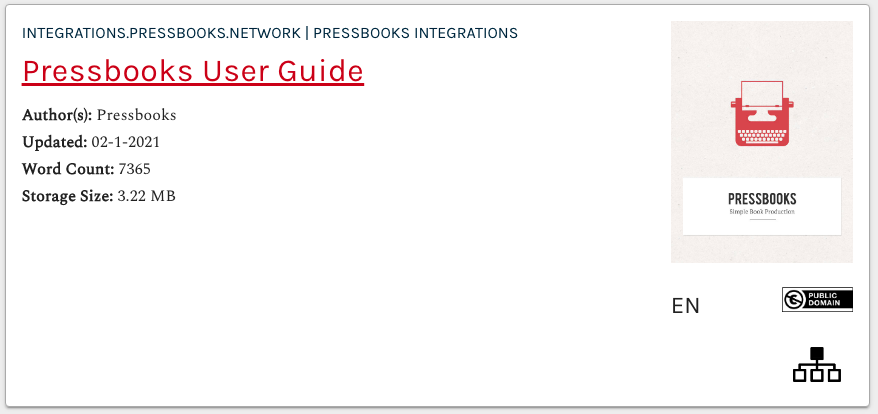 Book Info
The Book Info page is where you put information about your book.
Book information may be added at any time ; however, we recommend that review and edits in this information be completed when you are wrapping up your book.
It's not necessary to fill out every section of the Book Info page. You can choose to enter whatever information fits your needs for your project, though we do recommend adding as much information as you can when creating digital publications. Doing so will make it easier for interested readers to discover your book and quickly develop an accurate understanding of what it is about. Items which are required for University of Arkansas OER books and supplemental materials are listed as such.

General Book Information
This section includes basic information about your book through the use of text boxes.
Title : Pressbooks will automatically fill in this section with the title created by the OER librarian upon registration. Please change the title using editing this section. The title will be included in your automatically generated title page and webbook homepage. This section cannot be left blank.
Short Title: A shorter version of your title can be entered if your full book title is too long for the running content in your PDFs. This field is optional.
Subtitle: Like the title, this information will automatically populate the title page and webbook homepage if entered. The use of a subtitle is optional.
Author: The author name is used to populate the automatically generated title page and webbook landing page. It's also included in the metadata file in your ebook. This field is required, and will default to your Pressbooks username if nothing is entered here. For more information on how to add contributors, jump to the Contributors section.An author/editor. You may need to begin by creating new contributors for each of the people you wish to credit as authors, editors, reviewers, contributors, etc.
Editor, Translator, Reviewer, Illustrator, and Contributor: These metadata fields can be filled in to properly credit the contributions of individuals who filled specific roles in the creation of the book. All contributor fields except for Author are optional.
Publisher: Publisher information will appear on the automatically generated title page in exported files and on the webbook homepage. The metadata will also be included in your ebook files. This is required. Your publisher is the University of Arkansas Libraries. The University of Arkansas Libraries is a perfect publisher name. After you have added or revised your metadata with the relevant values, make sure you click Save in the Save Book Information on the book info page.
Publisher City: The convention of traditional publishing is to list the city or cities where the publisher operates on the title page of a book. The publisher city will be included in the automatically generated title page in exported files and on the webbook homepage. This is required. Your publisher city is Fayetteville.
Publication Date: The date the book is to be, or was published on. The publication date will be included on the webbook homepage. This field will be added by the OER librarian a concluding part of the publication of your book.
Digital Object Identifier (DOI): The University of Arkansas Libraries will register your book for a DOI and will enter the number in your book info.
Language: Set the language of your book and its metadata. Changing the language of a book changes certain automatically generated terms throughout the book, including words like "Chapter" or "Contents". Language strings may not change if they have not yet been translated into your chosen language in our system. The book's metadata language will also affect your Pressbooks interface language if your user profile Language setting is set to Site Default. This field is required, and defaults to English.
Copyright for the whole book and for chapters
All rights reserved indicates that you as the author are the only person or entity which may perform the activities afforded by copyright. OER books are
required
to select a Creative Commons license. For more information on copyright see our
section
You can add the following information in the Copyright section to include in the automatically generated copyright notice:
Copyright year
Name of the copyright holder
Select the Creative Commons license for your work
Please note that the copyright notice cannot be removed from your books after publication.
In the webbook, license information displays in the Metadata section on the webbook homepage, as well as the footer of each individual chapter, front matter section, and back matter section. Note that each chapter can have its own chapter-level license set that's distinct from the book's overall copyright license, and that this chapter-level license will override the book-level license in all formats.
A Creative Commons license that grants others permission to share derivative works (this tool can help you choose an appropriate license: https://chooser-beta.creativecommons.org/).
Cover
Tip: The cover image loaded into this space should include title and author information. An image alone, will not show this information. See making your
cover
Your cover image will be the front cover of your book and therefore should include the Title and author information as well as your image art.
Upload an image of the front cover of your book in this section. The cover image will display on the webbook homepage.
Cover images should have a 1:1.5 aspect ratio. Recommended dimensions are 2500px by 3750px. The maximum upload size of images is 2MB. Adding a cover image is required. Please note that the insertion of an image will not create typical cover content. However, if you do not include a cover image, your webbook and ebook exports will display the Pressbooks logo by default. Your cover image should include the title of the work as well as the author's name. While we would like you to identify potential images for your book design, please work with the OER librarian to develop an attractive and appropriate cover.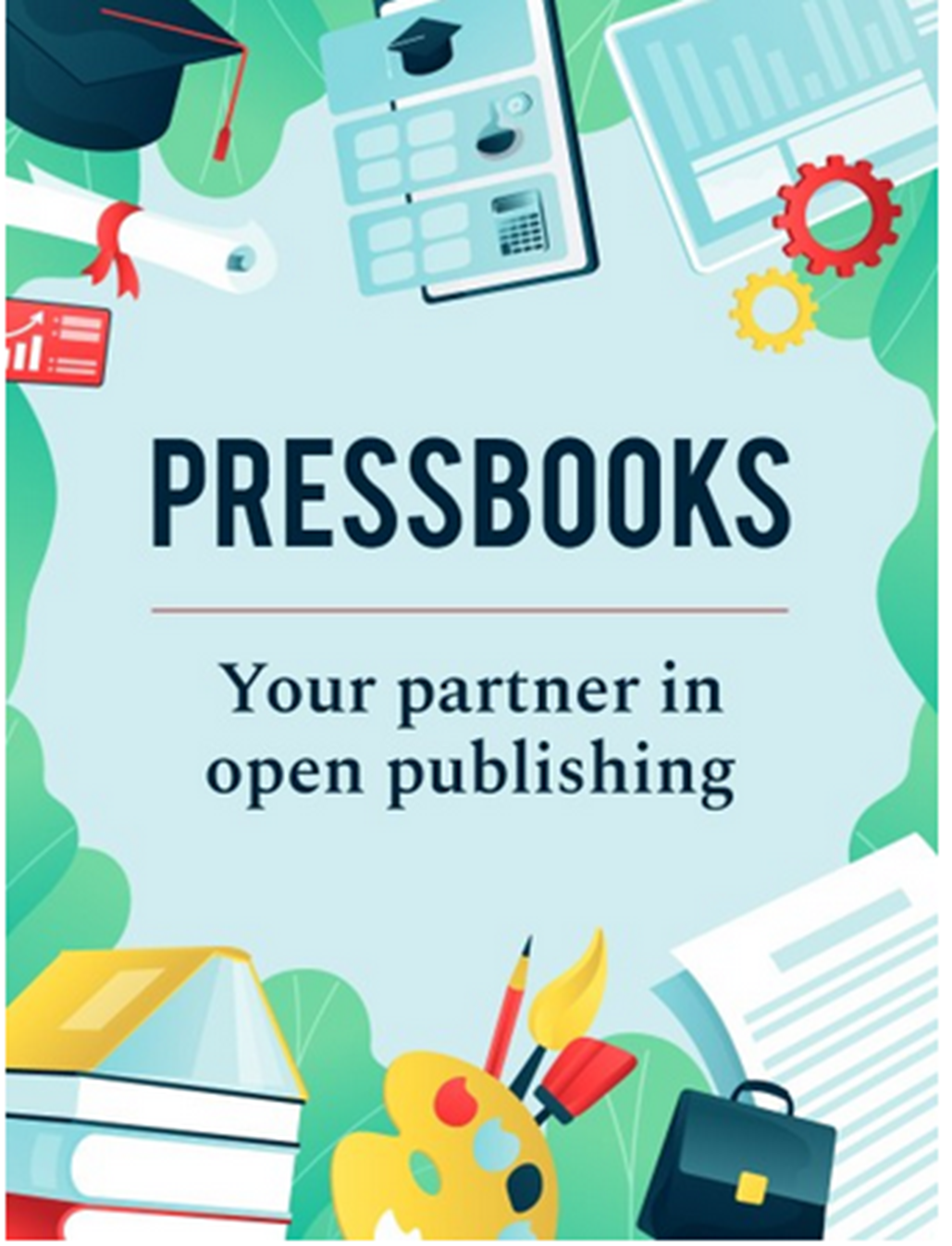 NOTE: The cover image is not included in print or digital PDF files. PDF files are designed as interior files only, as many print and print-on-demand services require cover files to be submitted separately.
Subject
Adding subject categories to your book can help with search engine optimization (SEO). These subject categories can also be used to sort your book on the public Catalog page of all Pressbooks sites. A primary subjects is required and can be selected in the drop down menu. Subject categories are built on EDItEUR's Thema standards, a subject category scheme for the global book trade. These standards have been widely adopted across the world.
To help you select the appropriate subject(s) for your book, you may wish to consult Thema's instructions or interactive subject taxonomy tool.
About the Book
Enter descriptions about your book to give readers an idea of what it's about. These will be included on the webbook homepage and in the metadata of your ebook files. All information in this section is optional to include. However, at least one of the following descriptions is required for your OER book.
Book Tagline: This is a very short, one-line sentence that explains why someone should read your book. Ideally, the tagline is something that would fit in a tweet.
Short Description: A short paragraph describing your book. Think of this as the description you would read on a catalog page with ten other books.
Long Description: A longer paragraph about your book that can also include reviews, praise, blurbs, etc. This description is required and will form the body of your books entry in OER indexes and networks.
Once you have completed these metadata updates, the information will be synced to the Directory within an hour. In contrast with the book example shown at the beginning of this guide chapter, a book with metadata entered will appear in the Directory like the following: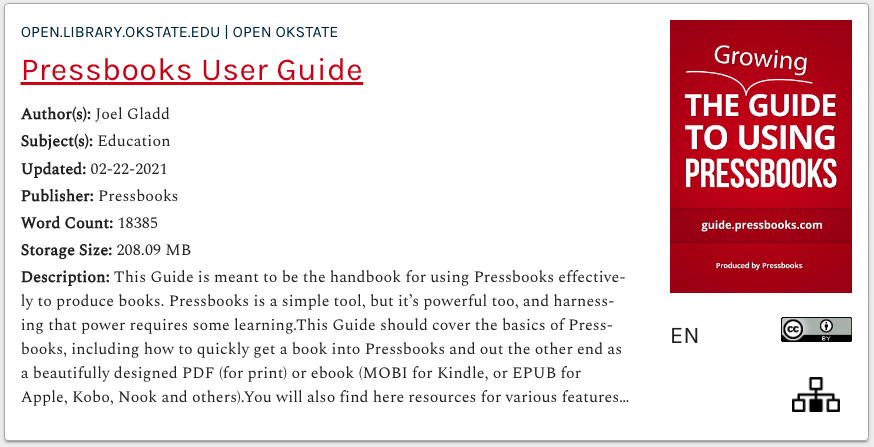 A sample Pressbooks Directory book card with relevant metadata
any data that describes your book—including title, subtitle, price, publication date, ISBN, and any other relevant information that readers use to find your book