28

Elevator and Career Fair Pitch: Standing Out While Still Fitting In

Lynn Meade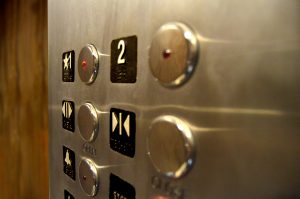 You've got dreams of landing a perfect job if you can only catch a break. One day that break happens as you step on the elevator and there is the one person you need to talk to move to the next level. This is the person who can launch your career, do you know what to say?
An elevator pitch is a short 30 second to one-minute persuasive speech that you should always have ready. You can use your elevator pitch at a job fair, on your LinkedIn summary, at networking events, at conferences, and when you meet someone in the elevator. Most of this information is straightforward and doesn't require a lot of writing from me, but it does require a lot of thought, careful preparation, and practice on your end.
Body Language Matters
Whether it is a chance meeting on an elevator or a deliberate meeting like a job fair, remember that your body language speaks volumes before you ever say a word.
Have a confident posture.
Practice so you always have a good handshake ready at a moment's notice.
Don't rush. Speaking too fast makes you sound nervous.
Keep an open body posture. Crossing your arms or legs looks like you are protecting yourself or hiding something.
Make good eye contact.
Breathe. I mean it, don't forget to breathe!
If this is a deliberate encounter, dress the part. Wear professional clothing and bring a notebook, pen, and copies of your resume.
Making Your Pitch
Introduce Yourself with a Smile
Hi, I'm Frankie Lane and I'm pleased to meet you."
"Good morning, I'm Titus Smith and I'm glad to meet you."
"Hello, I'm Pedro Gonzales. It's a pleasure to meet you."
Remember GNAP
Indeed.com suggests remembering GNAP: Greeting, name, affiliation, purpose.
Hello (greeting) I'm Mary Moore (name) I'm a senior business major from the Walton College of Business (affiliation) and I'm interested in your marketing position (purpose).
Focus On What You Have to Offer or What You Are Looking For
Hello, I'm Gabrielle Fowler. I'm a recent graduate with a degree in marketing and a minor in journalism.  I create illustrations for websites and brands. My passion is coming up with creative ways to express a message, and drawing illustrations that people share on social media.
Hi, my name is Javonte Newsom. I recently graduated from college with a degree in communications. I worked on the college newspaper as a reporter, and eventually, as the editor of the arts section. I'm looking for a job that will put my skills as a journalist to work.
Here is a sample from a student with no experience

My name is Sandra Engles and I am a freshman at the University of Illinois majoring in Apparel Merchandising and minoring in Marketing. I have always had an interest in fashion and enjoy reading fashion magazines and blogs. After completing a four-week-long school project where I created a styling tips guide, I sharpened my creativity skills while also learning how to use photoshop. I am looking for a summer internship in the fashion industry where I can help a marketing team by using my creativity and photoshop skills.

Here is a sample from a student with experience

Hi, my name is Sarina Jones and I am a recent graduate from the business school at the University of Wisconsin. I double-majored in Finance and Economics. After working at JLL Real Estate, I discovered I have a passion for corporate real estate. From being a Financial Analyst, I learned how to apply my finance knowledge when analyzing potential real estate investments to determine if the investment would yield positive returns and meet budget requirements. I am hoping to find a full-time job in the real estate industry that allows me to use financial and economic skills to guide strategic decision-making.
Career Fair
Have copies of your resume ready to pass out.
Research companies ahead of time and come ready with questions.
Bring a notebook and a pen.
Don't bring along your excess baggage: No backpack, bulky purse, shopping bag.
Practice your handshake before you go.
Dress professionally.
Approach booths alone. This is not time to hang out with friends.
Stay off your phone. Be attentive to your surroundings even if you are in line waiting to talk to a recruiter.
Take notes: It helps you remember, and it helps you look attentive.
Always send a follow-up email.
Advice From a Sports Management Professional about the Elevator Pitch
I invited Craig Schmitt, a teaching assistant professor in the Recreation and Sport Management Program at the University of Arkansas to talk more about the elevator pitch. He has worked both on the university level and in the non-profit level teaching athletes, trainers, and sports professionals the art of the elevator pitch. Here is what he shared:
Elevator pitches are an introduction, a way to engage with someone with shared interests or experiences. An elevator pitch is not the conversation, but rather a tool to demonstrate relevance and spark a conversation. For job seekers, elevator pitches can also effectively be used as a response to the most common opening question in an interview, and the one question few interviewees seem to prepare for, "Tell me about yourself."
Relevance and brevity should remain top of mind. Our lives are full of clutter that distracts an audience or listener from being present in the moment, and attention spans are only diminishing. Thus, we should strive to concisely deliver relevant content. It is helpful to approach an elevator pitch with a marketing orientation, or a recognition that it is much easier to "satisfy the consumer's needs or wants" than it is to "sell them your product." Thus, while the person delivering the elevator pitch inevitably will share information they believe is interesting, unless that information is relevant to the audience (or "satisfies the consumer's needs or wants"), it is unlikely to be heard and retained.
Schmitt suggests using the following three (3) part structure for developing an elevator pitch is designed to spark a conversation.
THE HOOK – Effective presentations begin with a hook, or a way to create initial interest (and hopefully, but temporarily, removing clutter from the audience's mind). For an elevator pitch, the hook is your passion. This should be a relatively brief, but specific statement. Focus on the impact you want to make on an industry or a group of people (not on a job title and/or organization). This impact should align with the impact your audience also strives to make. If there is an alignment, you will likely see an emotional response from the audience (a nod and a smile as they reflect on this shared passion).
THE EVIDENCE – Then, share evidence that you are pursuing that passion. This could come in the form of work experience, education, volunteer activities, or other efforts. But this should be a specific story, concisely told (the STAR method could help structure the story – Situation, Task, Action, Result).
YOUR NEXT STEP – Lastly, be sure to share your next step. In other words, what do you see as the next position or step in your career path? This helps demonstrate your understanding of your career trajectory, and your desire to continue to gain experience and learn skills (i.e., coachability) as you pursue your passion and strive to make impact.
Key Takeaways
Remember This!
Always have an elevator speech ready.
Be prepared and be concise.
GNAP: Greeting name, affiliation purpose.
Find a way to satisfy their wants as well as what you have to offer.
Be interesting, be specific, and be brief.
Bonus Feature
How to Pitch Your Company
Another type of elevator pitch is one where you pitch the company you work for.  This is often used by sales professionals as a way to get their foot in the door.
Elevator Pitch Formula
My name is_________ I am with ___________________ (insert name of company you work for)
We work with _________________ (Insert X)
Who __________________ (insert Y)
We help them ___________ (insert Z)
So that _____________ (insert W)
Example of the formula applied: 
My name is Peter Khoury, I am the founder of Magnetic Speaking – A public speaking training company in San Francisco
We work with corporate professionals:
Who want to improve their public speaking skills.
We help them through one-on-one coaching and group training to communicate with confidence, clarity, and charisma!
So that they can excel at their jobs and take their careers to the next level.
How to Elevate Your Elevator Pitch: For Corporate Professionals
References
Doyle, A. (2021). How to create an elevator pitch with examples. https://www.thebalancecareers.com/elevator-speech-examples-and-writing-tips-2061976
Edwards, V. (2014). The best elevator pitch. [Video] YouTube.  https://youtu.be/yi41U9ahyoE Standard YouTube License
Indeed.com (2021) How to introduce yourself at a job fair (with examples). https://www.indeed.com/career-advice/interviewing/how-to-introduce-yourself-at-a-job-fair
Tennesse Tech. (2013). The elevator speech. [Video] YouTube.  https://www.youtube.com/watch?v=LDpe9StfGTA Standard YouTube License.
Upkey. Elevator pitch help for students with no experience. https://blog.upkey.com/elevator-pitch-help-for-students-with-no-experience/
Upkey. Elevator pitch examples that include relevant experience. https://blog.upkey.com/elevator-pitch-examples-that-include-relevant-experience/